Would you like to use realistic voices to convert text to voices? Well, in that case, we recommend using this realistic voices API! Are you interested? Do you want to know more information? So read this post to discover more interesting facts about this API!
The term "text to voice" refers to the fact of reading aloud a written text. In general, it is a reading technique that is used to help improve comprehension and retention of the content of a text. Reading aloud can be done by a single person, or by a group of people. In both cases, the goal is to help readers process the content of the text more effectively by listening to the words rather than simply reading them silently.
Nowadays, human beings are no longer necessary to read texts. Now it is possible to convert texts to voices using artificial but incredibly realistic voices! In order to achieve this, you must use a realistic voices API. There are many APIs on the internet, but we recommend you use Woord API. It is the most complete tool that exists on the internet!
Brings Text To Life by using Woord API! The best API!
Woord API is a service that allows developers to convert text into speech. This enables you to create applications that can read aloud any text; such as news articles, product descriptions, or even animated series scripts. The text can be in any format as long as it's understandable by computers. It can be plain text, XML, JSON, or even programming code. The API then processes the text and returns a response in a format that can be used by your application. This response may be in the form of an audio file that you can play back; or a string of commands that you can use to control a voice synthesizer.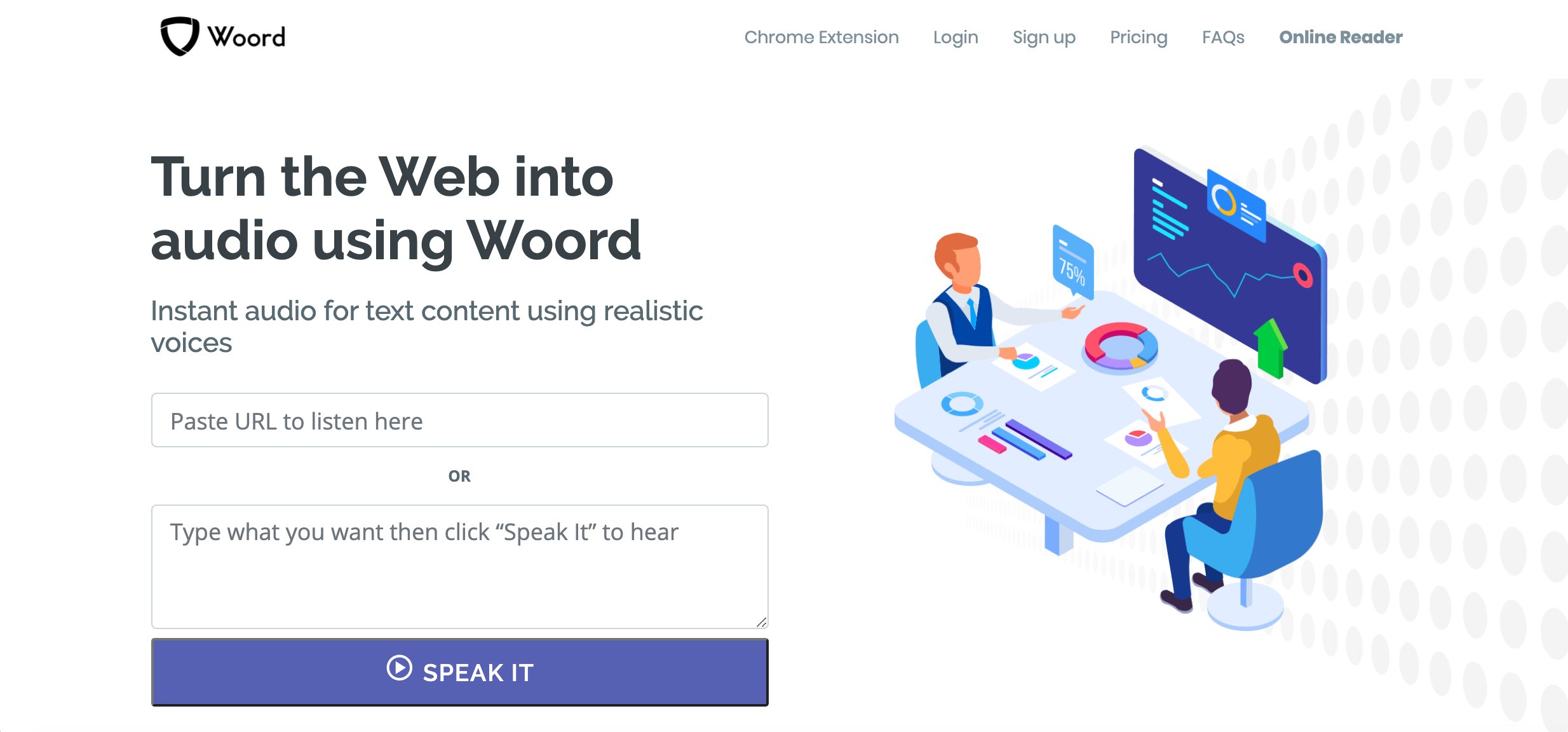 Woord API is often used by developers who want to add speech capabilities to their applications without having to build their own voice synthesis engine from scratch. The API takes care of all the complicated tasks involved in voice synthesis; such as converting text into audible speech and choosing appropriate voices for different situations. Even, you can choose the voices! Another advantage of using this API is that it allows you to quickly add new languages to your application without having to make any changes to your code. Woord API not only supports the English language, but also Chinese, Cantonese, Vietnamese, Arabic, Dutch, Norwegian, Korean, Polish, Swedish, Bulgarian, Czech, Filipino, Hungarian, Finnish, and Greek, among others.
With Woord API, you can bring your applications to life, by adding life-like speech capabilities. For example, in E-learning and education, you can build applications leveraging Woord's Text-to-Speech (TTS) capability to help people with reading disabilities. Woord can be used to help the blind and visually impaired consume digital content (eBooks, news, etc). Woord can be used in announcement systems in public transportation and industrial control systems for notifications and emergency announcements. Using AI technology, the synthesized voices are of the highest quality, emulating human-like natural-sounding speech. You can listen to all available voices on the website. To find out more information you can enter the website or also send an email to hello@getwoord.com. Also, you can call this number. +44 07392 764511.
---
Also published on Medium.